Import Dreambox Channel Lists Into Mediaportal Tv Server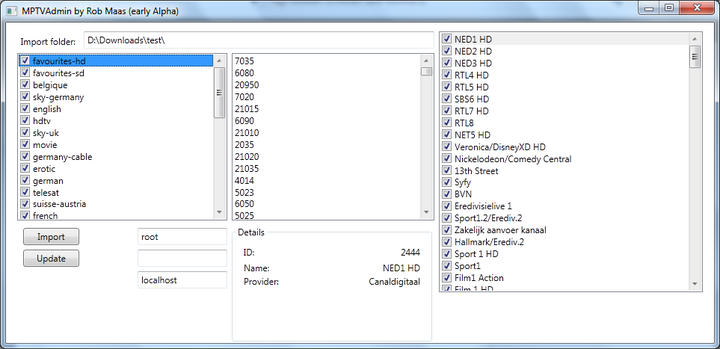 This blog is short and especially for people who have a MediaPortal TV-Server running with DVB-S(2). When you have a satellite dish with multiple LNB's pointing at different satellites you probably end up with a lot of channels.
MediaPortal can handle this perfectly, but the All Channel groups is getting slow and it takes a lot of time to group your channels in handy categories.
A college of me pointed me to some list which is created for the Dreambox, which can be imported in a Dreambox and create nice channel groups. (He told me that you even don't have to scan for channels). The link he gave pointed to the Hensat list, which he used.
Besides that scanning for channels can take a lot of time it is not a real problem for me, because it is just one click and it does the job.
Creating the channel groups is a whole different story, create groups for your provider isn't that hard, but create groups by genre, like "Music", "Movie", etc. takes a lot of time, cause there are a lot of FTA channels out there and it would be a nice to also add them to the right groups.
So I decided to take a look at the "Henksat" list and try to create an import tool for MediaPortal for it. Since I succeeded by doing this, I got some friends also asking for it. First I was a bit skeptic, because it is created in a quick and dirty way, like no exception handling at all.
So before you download and use this tool a few things you should know; - The import folder must end with a "". - You can select channels with the right mouse button. - deselect/select the checkbox is with the left mouse button. - Always make a back-up of your working configuration - Please remind that this is just a very basic test-version created for myself. - Last but not least, I'm not responsible for any damage caused by this program!