Sparkleshare Free Opensource Alternative for Dropbox
For a while now I'm looking for a good n-way sync tool, which I can run on my own storage. I used Unison for a while, but while it is good at syncing, I never got it to work realtime or started syncing when folders changed. Another downside was that Unison was fairly slow on Windows.
So this year was starting great by Synology to bring out a tool in the new DSM firmware called Cloudstation. This tool was working great the only downside it had that there is only a Windows client available at this moment. A few weeks ago I saw some tweets about Sparkleshare, that the Windows cliënt was almost ready and the good news, it now is. So I decided to try it out, cause Cloudstation and Unison are nice, but I've a mixed environment so I'm always taking concessions with those solutions.
Luckily SparkleShare claims to solve this issue and even better it aims to be simple for the end-user, it has an Android application and a webinterface. Normally I would tell here, how to install this, but it is really simple (within Linux), it is about 4 commands and you're ready to go! The only thing which cost me a little time, was to figure out how to get the website up and running and this was only caused, cause this is a separate project, called Sparkleshare Dashboard.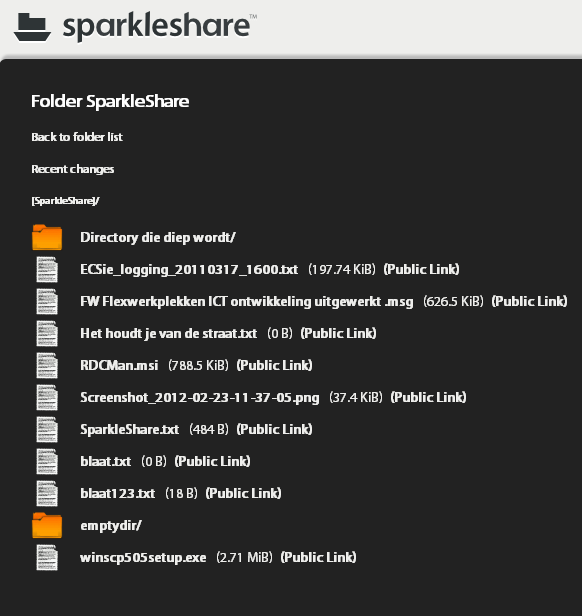 I tested Sparkleshare for a couple of days now and syncing is working good, there is still some work to do to make this a real Dropbox killer, especially the Windows cliënt has some minor issues. So if you are just like me and always wanted a "private" Dropbox, install Sparkleshare and test it out!